2015.06.28 First videos of the new collection AUSTRIA are online! In the next weeks more will follow step by step. All shots are available in 4k UHD. If you find only HD please contact me.
Topics: In and around Hallstatt, Dachstein Salzkammergut, nature, alps, Salzburg, Gmunden, ....
2015.06.02 Several new direct directory links. Check out the right table.
2015.05.29
I'll prepare a big website relaunch. As i'm always busy, shooting and editing new clips this website comes more and more out of date and i miss the time to promote new updates. Usually twice a month new clips go online! More about this the website isn't mobile-friendly. So i'll set up a new website which is always up to date for your interests and more friendly to manage for me.
2015.05.29 Several big updates in between!
Sub-Domain Madeira.Earthviews.de. Don't miss to check out our amazing mountain-clouds time-lapses at Pico do Arieiro! You'll be impressed!
Several directories updated, especially directory HARZ with new seasonal clips and new spots.
2014.12.06 New sub-domain Monkeys.
Our 2nd sub-domain http://www.monkeys.earthviews.de is now online and offers several new fantastic stock video footage clips about different species of apes and monkeys, and more about this some really amazing close up videos of Gorilla fascial expression.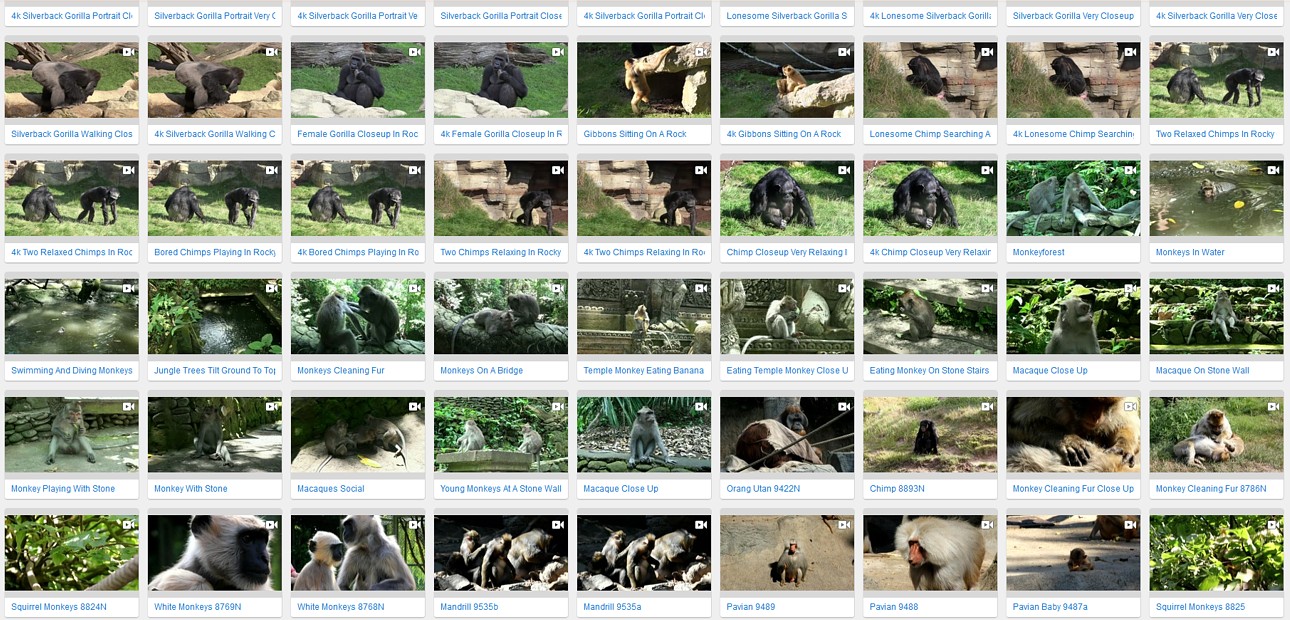 20014.11.01 Website relaunch, new special interest sub-domain.
Earthviews.de is expanding. The first step is a new special interest sub-domain belonging to the german low mountain range HARZ. Several sample clips of our stock video footage taken in the mountain range HARZ region are included. More about this we offer some informations about the destinations and places where we have taken our stock video footage. If you're looking for a video clip for a TV documentation, or for your private or commercial website, or if you only want to have some views about the beautiful HARZ region with infos for hiking destinations, .... you're welcome and invited to take a look.
If it isn't still yet, the HARZ.Earthviews.de site shall become the greatest stock video footage archive about the HARZ region and will be updated regulary from time to time.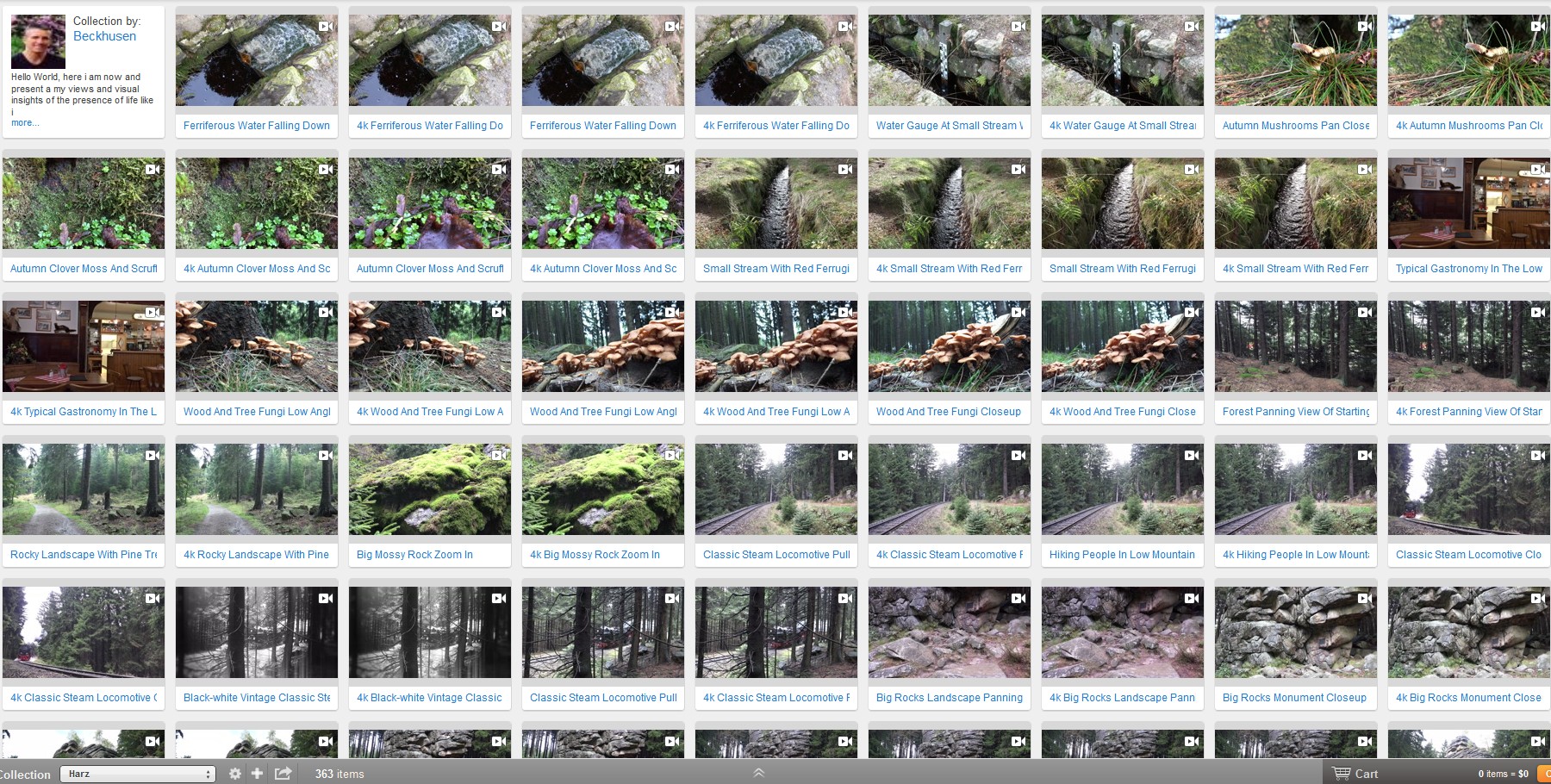 2014.06.09 Big Update - Several clips in several directories
Big updates are online! While editing my new footage takes more of my time as i have available i'll give you a short note what's happening now, in the last and in the next time. Please excuse me that it's not possible for me to provide you with steady and actual informations all the time. All clips from now on are available in a fantastic quality in 4k UHD video and in HD.

Let's start with a lot of maritime clips recorded at an event called HAMBURG CRUISE DAYS. Step by step i upload a bulk of clips with scenes taken in and around the Hamburg harbor, scenes taken by sightseeing boat trip, maritime scenes at Hamburg Landungsbrücken and Hamburg Speicherstadt, and scenes of the great parade of ships in the night with fireworks. This will need a whole while till the complete bulk is online, as i always step by step publish a set of around 10 new clips of this event.


Also a complete set of nature scenes from the low mountain range HARZ is complete online in between, also several clips about living species in a coral reef aquarium.

The next highlight which is online in between are several close up clips of Bald Eagle, Golden Eagle and falconry. There are some really beautifull must see clips like the following example and also several photos of theses scenes are available in different resolutions:


Maybe for some of you interesting, a complete new FX Collection is online. See here 2 examples:



One more highlight i'll present you are several clips of a Silverback Gorilla, his troop and other animals. This set is step by step going online and at last also photos of the scenes will be available in different resolutions.



2014.07.19 Updated: Collection UNDERWATER
Clips are available in 4k UHDTV and in HD



2014.07.18 New collection STONED - ANCIENT BUILDINGS & SCULPTURES in 4k UHDTV and HD
Just began with first uploads the new collection STONED - ANCIENT BUILDINGS & SCULPTURES, all clips are available in 4K UHDTV and in HD.



2014.07.15
GREAT NEWS! We shoot all in 4k UHDTV.
New videoclips are nearly all available in 4k UHDTV and in HD. Since July 2014 i'm the lucky owner of a Sony FDR-AX100E 4k camcorder. That means not only that i shoot all clips in 4k from now on, it means also that new HD clips which are reconverted from 4k clips are in much more better quality than usual HD clips filmed with HD camcorders.
THE FUTURE IS NOW!
2014.06.26 New collection DRAG RACING Nitro Olympics at Hockenheimring, motor sports for absolute adrenalin junkies

2014.06.24 Collection MATTERHORN and Collection SWITZERLAND now completed with several nice clips around the swiss Matterhorn area, including breathtaking timelapses with different weather conditions, alpine panoramas, landscapes, cable car, urban scenes and winter sport scenes.

2014.06.19 New Set - 4K uhd video Rocky Stream in Harz nature reserve
4k pan motion of a rocky stream with red water which is containing iron in the nature reserve of the german lower mountain range called HARZ. Capture taken at the evening before sunset with deep standing sun.
See more clips like this in my collection 4K NATUREor in my collection HARZ

powered by Stefan Beckhusen (c) 2011, all rights reserved